IS YOUR WORKPLACE SAFE AND SOUND?
Safe + Sound is a year-round campaign to encourage every workplace to have a safety and health program.
Find & Fix Hazards
At the core of every effective safety and health program is a systematic process for identifying and controlling (i.e., finding and fixing) workplace hazards.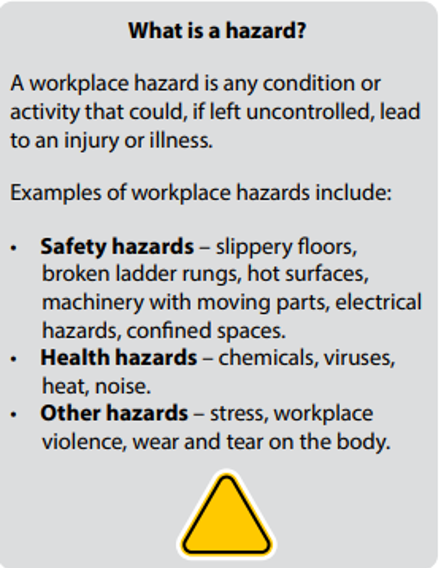 Why Is It Important?
Traditional approaches to finding and fixing workplace hazards are often reactive. Actions are taken only after a worker is injured or becomes sick, a new standard or regulation is published, or an outside inspection finds a problem that must be fixed. Finding and fixing hazards using a proactive approach, before they cause injury or illness, is far more effective.
Workplaces are always evolving as new technologies, processes, materials, and workers are introduced. By adopting a systematic approach, businesses can stay on top of emerging hazards that could lead to injury or illness.
A systematic find and fix approach means:
Involving workers, who often have the best understanding of the conditions that create hazards and insights into how they can be controlled.
Reviewing all available information about hazards that might be present.
Conducting inspections to identify new or emerging hazards.
Investigating incidents to identify root causes and potential solutions.
Evaluating options using the "hierarchy of controls".
Considering how to protect workers during emergencies and nonroutine activities.
Checking that existing controls are intact and remain effective.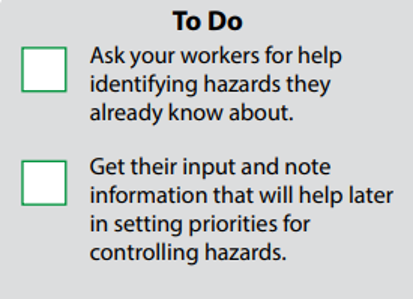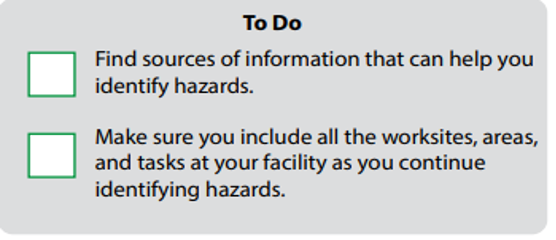 See more at:
Hazard Identification: Collect and Review Hazard Information (osha.gov)
More resources:
Review strategies for identifying hazards using Safe + Sound's "That Was No Accident!"
https://www.osha.gov/sites/default/files/SHP_That-Was-No-Accident.pdf
Spencer-SHE has been providing Safety, Health, and Environmental Compliance Guidance and training since 1980, offering clients cost-effective, turn-key solutions. We get to know our clients and assist in finding/fixing workplace hazards. Our services are customized accordingly.
Contact us here and let Spencer-SHE help optimize your workplace safety culture.
Source:
Develop your program | Occupational Safety and Health Administration (osha.gov)