IS YOUR WORKPLACE SAFE AND SOUND?
Safe + Sound is a year-round campaign to encourage every workplace to have a safety and health program.
Overview
According to the U.S. Bureau of Labor Statistics, the rate of worker deaths and reported injuries in the United States has decreased by more than 60 percent in the past four decades since the Occupational Safety and Health (OSH) Act was passed. However, every year, more than 5,000 workers are killed on the job (a rate of 14 per day), and more than 3.6 million suffer a serious job-related injury or illness.
Serious job-related injuries or illnesses don't just hurt workers and their families but can hurt business in a variety of ways. Implementing a safety and health program, however, can improve small and medium-sized businesses' safety and health performance, save money, and improve competitiveness.
Safety and health programs help businesses:
Prevent workplace injuries and illnesses
Improve compliance with laws and regulations
Reduce costs, including significant reductions in workers' compensation premiums
Engage workers
Enhance social responsibility goals
Increase productivity and enhance overall business operations
Management Leadership
Management leadership means there is a commitment from the top to implementing a program and using it to drive continuous improvement in safety and health.
Why Is It Important?
When management leadership is sincere and is supported by actions, workers know that safety and health are important to business success. This means that the steps they take to improve safety and health will be valued by the business.
Top management can demonstrate its commitment in many different ways, including:
Developing and communicating a safety and health policy statement.
Providing the resources needed to implement and operate the program.
Factoring safety and health into operational planning and decisions.
Recognizing or rewarding safety and health contributions and achievements.
Leading by example, by practicing safe behaviors and making safety part of daily conversations.
Accelerate your program and show your commitment in your workplace.
Step up and take the challenge….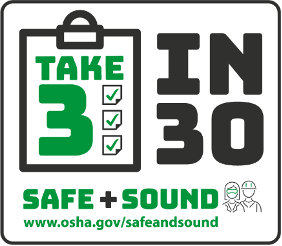 Click on the link below to take the 3 in 30 challenge.
https://www.osha.gov/sites/default/files/Activity_ML_Take3in30.pdf
Spencer-SHE has been providing Safety, Health, and Environmental Compliance Guidance since 1980, offering clients cost-effective, turn-key solutions.  Contact us here to help you to develop and maintain a safe and healthy workforce.
Sources:
Develop your program | Occupational Safety and Health Administration (osha.gov)